Sassanid Infantry Shields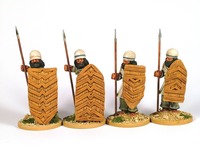 Regular followers of my blog will know that I have for some time been unsatisfied with the historical accuracy of the shields supplied with 28 mm Sassanid infantry figures, so I decided to do something about it.  I had Paul Hicks sculpt two replacement shields, one large, and one small, following details published in "The Excavations at Dura-Europos, 1928 to 1937. Final Report VII: The Arms and Armour and other Military Equipment" by Simon James.  Then I had Matt Hingley of Elhiem Figures cast them up for me.  The results can be seen to the right, and in my Sassanid Photo Album.  The shields in the photo are posed with figures from Miniature Design Studio and A&A Miniatures.  The only other major manufacturer of  Sassanids that I'm aware of is Gripping Beast.  Alas, their shields are moulded on to the figures, so swapping them for mine will require a fair bit of effort, probably more trouble than it's worth.
I have decided, in order to try to recoup my costs, and as a service to my fellow enthusiasts, to offer these shield for sale.  They're cast in pewter and come in packs of ten shields priced as follows.  The price of metal has increased a lot lately, and I'm afraid I have no option but to pass on the latest price increase from my caster, thus prices are increasing with immediate effect.
SH01 Large Shields £5.00
SH02 Small Shields £3.80
Postage and Packing.  Shipping costs are a bit of a nightmare - Royal Mail don't make it easy to calculate how much it will cost.  The best thing to do is to contact me using the Contact Form to the left of this text with details of what you want to buy and where you are in the world.  I'll work it out and email you a quotation.
Payment.  I am not a company, I don't have facilities to accept credit cards, and I can only accept payment in Pounds Sterling.  The most convenient method is probably Paypal, though at a pinch you could also send me a UK cheque via 'snail mail', in Pounds Sterling, drawn on a UK bank.
So, if you want to order some shields, work out what you want, fill in the contact form with your full details and I will calculate the cost and send you a Paypal invoice for the correct amount.  I am having a problem with the contact form at the moment - the messages do get delivered okay, but the sender usually seems to get an error message indicating that the message hasn't been delivered - if this happens, please don't panic just yet- the chances are that I have received the message.  I'm looking into it, so please bear with me.
I will try to deliver a speedy service, but please bear in mind that I'm not really doing this on a commercial basis, and am not intending (unless this becomes madly successful!) to hold large stocks of shields, so there will likely be a delay of a few days after you've ordered whilst the caster produces and sends them to me before I can send them on to you.
Archaeology and Modelling. The original shields, as excavated at Dura Europos, are made, very simply, from rawhide and straight sticks of wood about 10-15 mm in diameter.  A large sheet of rawhide had slits cut into it in a particular pattern, and the sticks were threaded through the holes.  It is assumed that the leather was wet when this was done.  As the leather dried, it shrank onto the sticks, creating a light, rigid and strong shield.
I painted mine with Foundry 7B 'Buff Leather' with the leather picked out in 7A.  They were then shaded using Army Painter Quick Shade 'Strong Tone' and given a squirt of Testor's Dull Cote to kill the glossiness of the 'dip'.
There's no evidence at all for which way up they were held - point up, or point down, it's entirely up to you!  I decided to go for 'point up' as there's evidence of other 'Eastern' armies using shields that way - New Kingdom Egyptian, Assyrians, Mycenaean, and Indians, at least.  And I think they look 'cool' that way up too!